In 2022, married life takes on many different forms; yet the promise to love and cherish each other, for "as long as we both shall live" remains a sacred line in most wedding vows.
At the Old Prebendal House, we admire this life-long commitment and believe couples should be able to remain together at every stage in their lives; even when increased healthcare needs mean having to move into residential care. That's why we're incredibly proud to offer the ability for couples with differing care needs, to stay together as part of our care home and retirement community.
A perfect demonstration of this timeless love can be seen in our new residents Mr and Mrs Earnshaw, who moved in to adjoining rooms with us in February this year. Having been together for over 50-years, their story shows true love will follow you wherever you go and why they are still inseparable after all this time.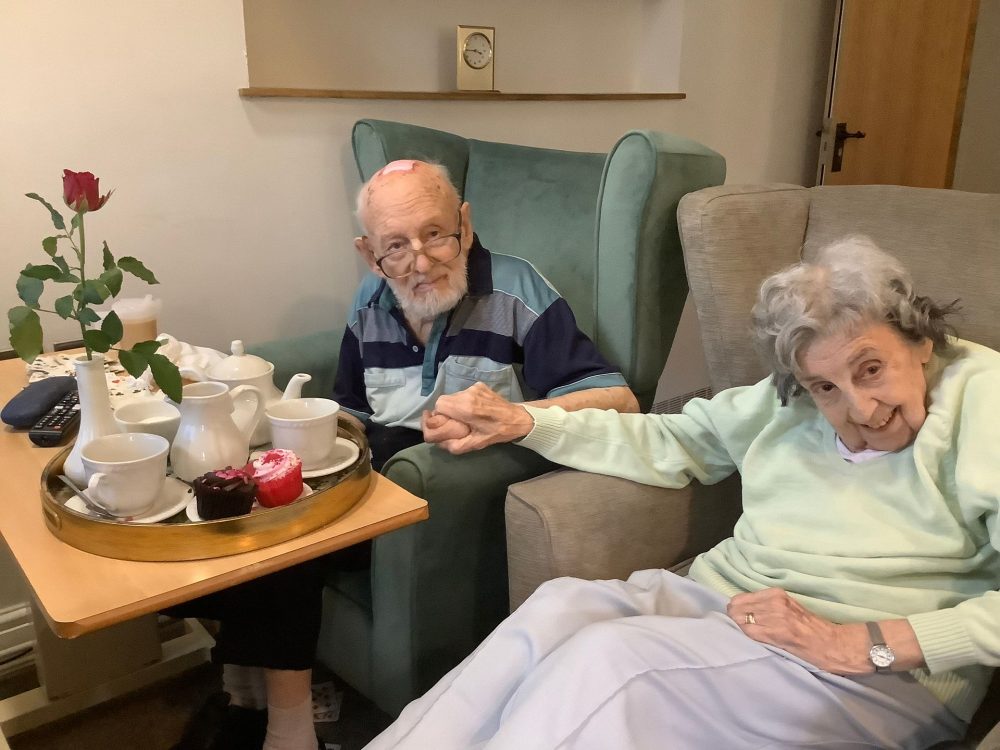 Jane and Simon Earnshaw
Both avid tennis-lovers, Jane and Simon met in July 1966 at their local cricket and lawn tennis club. Despite never actually playing against each other, sparks flew and their first official date took place not long after – at a pub on the edge of the River Thames.
Jane and Simon loved travelling, and both spent time working abroad. Jane at a bank in the USA, and Simon for a commercial union in Melbourne, Australia. Despite being a love story for the ages, theirs wasn't without some complication; when despite Jane still being his girlfriend, Simon returned from the US to find her engaged to someone else!
Nonetheless, the couple found their way back to each other and were married on the 14th March 1967 – and have enjoyed the many adventures, including that of family-life together ever since.
Jane and Simon first came to the Old Prebendal House for short-term respite care, however after seeing what our home has to offer – they have both chosen to move in permanently to enjoy this next chapter of their lives together.
Having now started to settle into life in the Cotswolds, we asked Jane and Simon a few questions about living at the Old Prebendal House – and their secret to a long-lasting relationship
Do you have any tips for a successful marriage?
"We got married when we were 30 – so I'd say get married a little bit later in life! We also did lots of adventures before settling down into marriage."
What first brought you to the Oxfordshire area and the Old Prebendal House?
"Our daughter Sally only lives 15 minutes away and we wanted to be closer to her- so we made the decision to move from Salisbury."
What do you like most about the Old Prebendal House so far?
"We love our rooms and the staff team. The staff are very friendly which makes such a difference. We particularly love Carol and Tanya! The night care team are also excellent carers. Most of all we are together. We have decided to become permanent residents and we are looking forward to our own furniture and chairs being delivered."
We are delighted to have Jane and Simon living with us at the Old Prebendal House – and wish them many more years of marital bliss.