November 2022: Spooky Season at Kingston Court
16/11/2022
Kingston Court Newsletter: November Edition
How time flies! We're now in November and what a busy spooky season October has been here at Kingston Court. With the weather taking a cooler turn, we came up with cosy and creative indoor activities to keep us active including Halloween arts & crafts, Gentleman's Club and watching some seasonal favourites on our projector. Our coffee morning fundraiser was also a great success this month – with all money raised going towards our resident's fund, so we'd like to say a huge thank you to everyone who was involved.
We all love this time of year – and with Bonfire Night, Remembrance Day and Christmas coming up, we have lots of fun activities and events to look forward to as we celebrate the festive season. We hope to see you all soon to join in the fun.
Halloween Spook-tacular!
Throughout the month Residents have been involved with creating their own fun & spooky decorations for the home. We've also been crafty making tissue paper cats, bats & pumpkins to put up in the lounges – which looked perfect for our Halloween party!
We were treated to a performance by singer Brian who sang some fantastic Halloween themed songs along with lots of 1950s classics. Activities staff residents had help in making some glamorous masquerade masks for the occasion to pose in whilst our team dressed up in their spooky costumes.
Activities Coming up this Month
We've got lots to look forward to over the next few weeks, including:
Chocolate Fountain

Oomph Live & Exercise

Stitch & Knit Sessions

Remembrance Day

Bonfire Night Activities

Gentlemen's Club

Pudsey Tea Party

Morton Manner Outing
Cafe Outing
Our residents went for an afternoon out up at the new hospital café 'People First'. This is a lovely charity café that employs people with disabilities. Residents enjoyed a cup of tea with a few yummy cakes, which we also brought back for other residents to enjoy.
Camera, Lights..Action!
With the weather turning cold and wintery, our residents have loved using our projector to watch some Halloween films whilst staying cosy inside. We also watched both Paddington Bear films for Oomph's Paddington Bear Day – and of course no movie-afternoon would be complete without some delicious popcorn!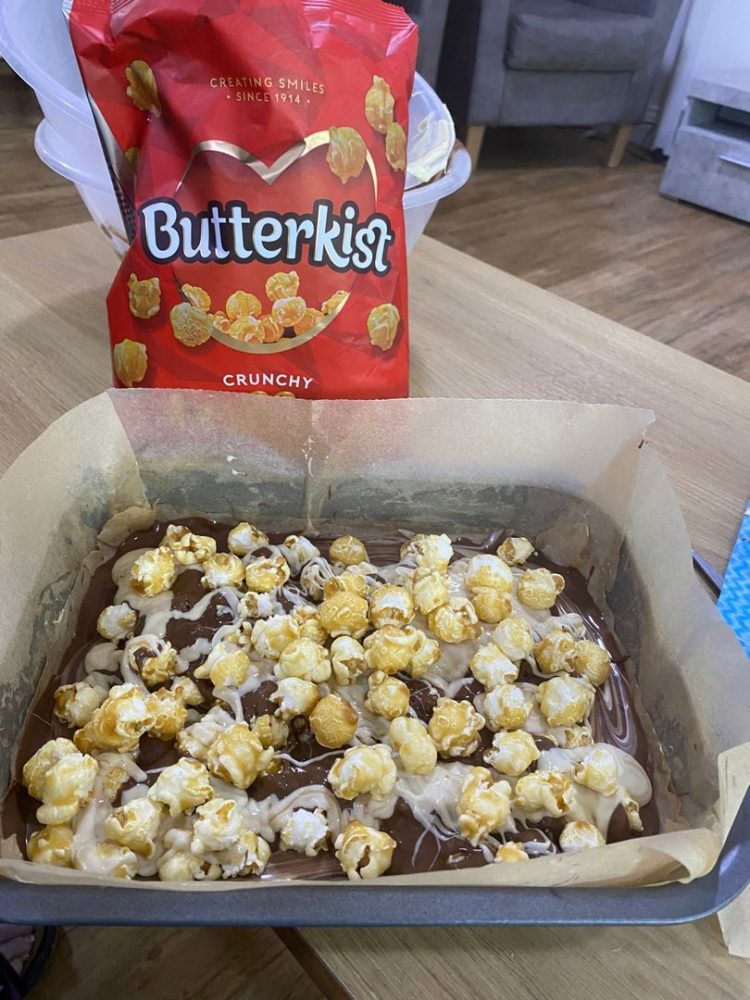 Special Mentions
To our brilliant volunteer Wendy who has helped us throughout the months with our Stitch & Knit class which has been going down so well with our residents. We've been creating a big, stitched art piece for reception to go with the themes of our floor's names. We can't wait to have it up and show everyone.
Big thank you to Sheila Perryman for her kind donations & baking for our coffee morning.