January 2021: New Year at Derwent
07/01/2021
Derwent Newsletter: January Edition
December has flown by here at Derwent and it's safe to say we have definitely been full of festive cheer! We have been doing lots of fun Christmas activities this month, including arts and crafts, a fab Christmas party and of course #ELFday in aid of Alzheimer's Uk which all the residents loved.
Also, I'd like to say a special thank you to all families who have kindly brought us little presents and chocolates it is greatly appreciated!
We are continuing to have lots of interactions with resident's families with our online presence and our continuous Facetime and Zoom chats. We would like to say a big thank you to all our resident's families for your understanding throughout all this and your unwavering support.
Allison Donnelly- Home Manager
Gallery
Christmas Celebrations at Derwent
Activities in January
We have been packed with activities throughout December, we had our fab ELF Day and our Christmas Party, as well as our Christmas baking and our arts and crafts. Here's a sneak peak at January
Afternoon Tea
Assortment of games
Baking
Arts & Crafts
One on one activities
Pamper days
CONGRATULATIONS
Special mention to our Care Assistant Ann Turnbull for getting Decembers Employee of the Month. Congratulations! Ann is a much valued member of the Derwent team, always willing to lend a hand in all departments and with a smile on her face. Well Done Ann!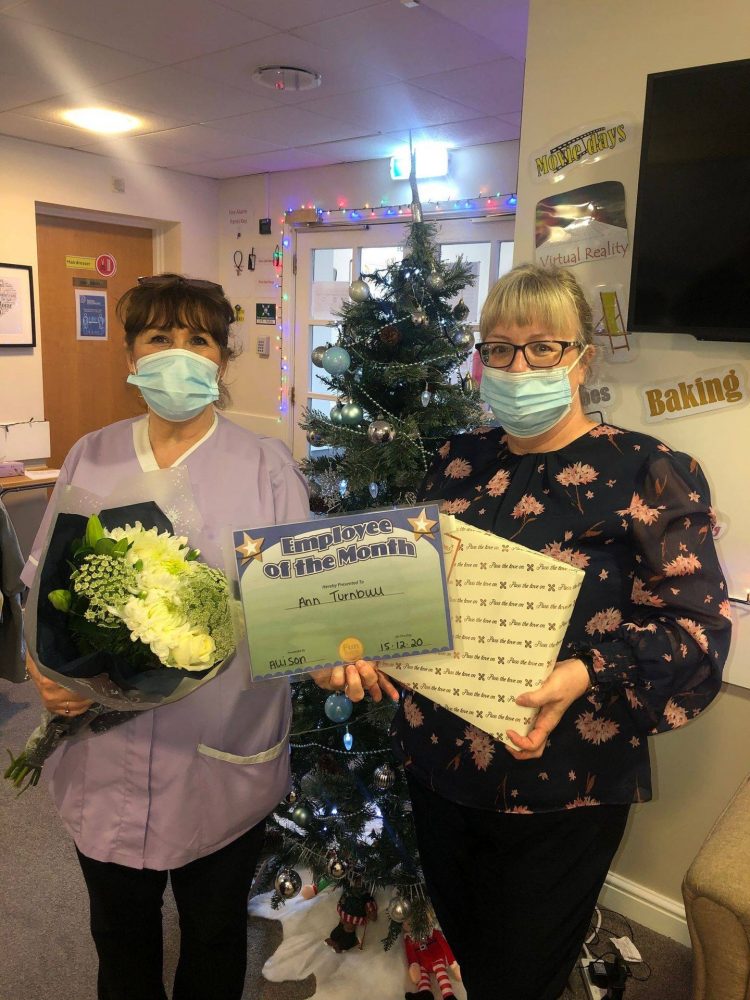 Residents birthdays
We have celebrated three birthdays in throughout December! Ray Teasdale celebrated his 58th birthday on December 9th. Nora English turned 84 on December 30th and had a great day singing along to her favourite musician Barry Manilow. Irene Heslop celebrated her 82nd birthday on December 31st and really loved opening all her card and gifts from her family.
Many happy returns to all!
CONTACT US
Allison Donnelly – Home Manager
Derwent Care Home
Newcastle Road
Low Westwood
Newcastle upon Tyne
NE17 7PL
Tel: 01207 563 886
Email: derwent@mariposacare.com