What does a typical day look like in life as a carer?  
Debbie's day starts at 8am when she arrives at work and receives a handover from the outgoing night team who brief the day shift on how our residents have been. This includes sleeping, awake times, diet and fluid intake and any care interventions that may have been carried out.
Debbie says: "When I first come on shift, the handover is very important to see if there have been any changes with the resident overnight or in the previous couple of days if we have been off duty. Communication is key to ensure continuity of care for all our residents.
"The main thing to remember is that you must start with a positive and upbeat attitude as days can be busy."
Debbie works alongside her colleagues to check on each of the residents to see who would like to get washed, dressed and ready for breakfast with the priority in making sure everyone is comfortable and happy.
The care team is responsible for delivering person-centred care, including helping with time in the bathroom, choosing clothes, supporting dressing, hairstyling and, where appropriate, assisting with jewellery, face creams and make-up.
Debbie says: "A carer supports with all forms of personal care which in some cases can be challenging but you must reassure people and always uphold their dignity, respecting their choices and wishes at all times.
"You are looking out for signs of mood change. A resident could be depressed, upset, in pain or bored and by knowing your residents, you are able to make choices with them to help and reassure them."
Next is breakfast, and Debbie consults the residents' files to see if there are any updates and changes to dietary needs. Care staff help to serve breakfast in the dining room, where residents are invited to choose from a varied menu in a safe and social environment.
If requested, Care Practitioners also take meals to a resident's room. Staff will offer support to anyone who needs it and our care team promotes independence by encouraging residents to help us to assist them.
Throughout the morning and afternoon, there is a steady stream of visitors including family and friends, doctors, health care professionals, community groups and entertainers.
Care staff use a handheld device linked to our care plans to document every event in each resident's day from the moment they wake.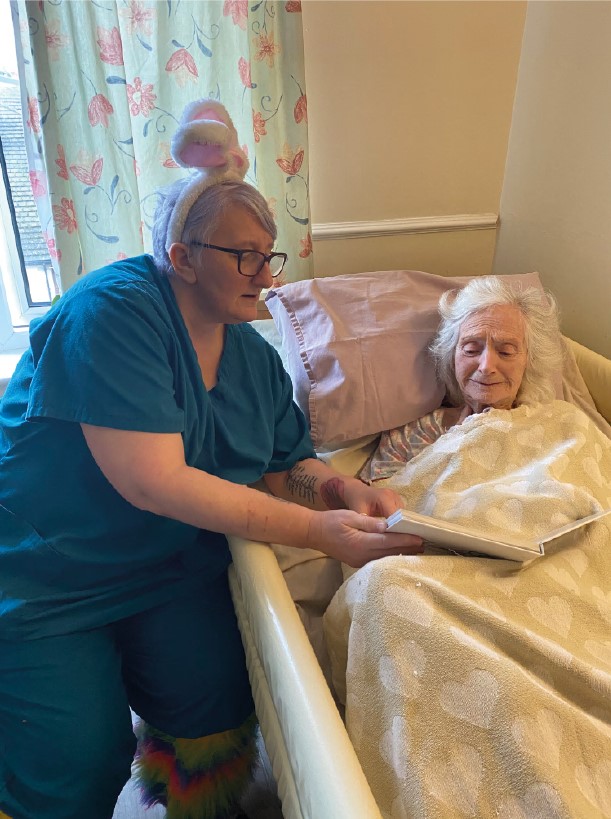 In addition, care staff support with the delivery of activities, led and coordinated by our dedicated Lifestyle team. Every day is different, with residents enjoying individual and group activities that are tailored to their personal interests and hobbies.
As Debbie says: "Our job changes hour by hour during the course of the day. We can be serving meals, acting as an entertainer, and be someone for residents to lean on when they are feeling upset, confused or alone."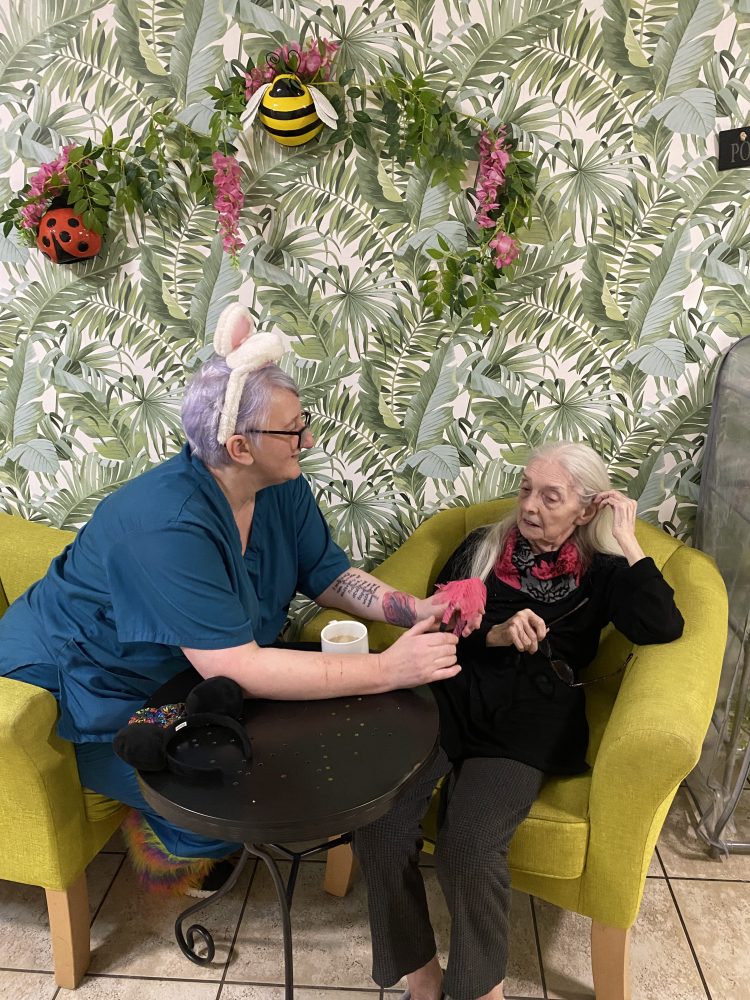 After tea, Debbie assists residents to get ready to go to bed if they wish before completing a walk-around handover with the returning night staff and ending her shift at 8pm.
What are some of the most rewarding parts of the job? 
"A carer's job can be hard but within Kingston Court I am supported by colleagues and management. I feel that we have genuinely got a good team. I also enjoy the opportunity to progress and learn with different training and courses on offer.
"Working alongside an equally committed team is just another reason I love my role at Kingston.
"The reality of knowing that you have helped someone and made them smile or just brightened their day a little makes it worth it."
If you would like to discover more about a career in care, take a look at the rest of our dedicated careers website. You can also view and apply for our latest care opportunities by following the link here.